Auto Accident Care in Cincinnati
Chiropractic is the only proven effective treatment for whiplash injuries…

Journal of Orthopaedic Medicine*
The Trauma of a Collision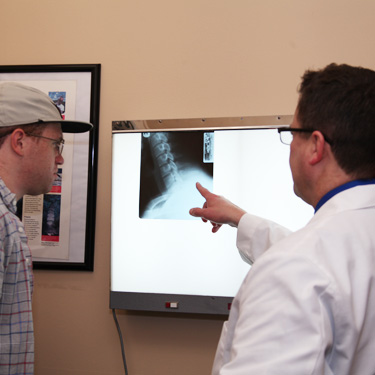 In the moments after a car accident, your body immediately goes into fight or flight mode. Adrenaline shoots through your body, and your sympathetic response is heightened, which can prevent you from feeling injuries. In the days and weeks afterward, however, you will likely start feeling sore as scar tissue forms, which happens immediately.
It's risky to see if an injury will clear up on its own; perhaps you've heard those most five dangerous words in the world: "Maybe it will go away." Simply put, car accident injuries rarely just go away. This is a dangerous assumption to make, because the right treatment can correct these kinds of issues and prevent long term consequences, which can seriously impact your quality of life.
At A Better Life Chiropractic, we can help you recover your health and promote healthy healing so that you are not just surviving, but thriving.
The Experience Needed to Treat Auto Injury
From Day One, your body will go into muscle spasm, an inflammatory response occurs, and scar tissue starts to form, causing pain and other symptoms. Dr. Smith has trained extensively in treating these issues, with course experience in
Whiplash Biomechanics & Injury Traumatology, Advanced Certification, Spine Research Institute of San Diego, 2018
Diagnosis and treatment of auto trauma and spinal ligament injuries
Crash biomechanics
Soft tissue injuries
Connective tissue injuries
Restoring Your Health Post-accident
There are three phases in the repair of soft tissue injuries from auto accidents. We'll work with you to get you through each stage until your case is successfully resolved.
Inflammatory phase. We work to get you out of pain and relieve your symptoms.
Repair phase. The focus is on healing the collagen fibers in your soft tissue so that scar tissue cannot form.
Remodeling phase. The final phase in which the injured areas are strengthened and stabilized through stretching, exercise and strengthening as needed.
Your recovery time will depend on the degree of your injury and your individual response to treatment. We find that it generally takes 12-24 visits in moving through these phases of healing and restoring one to their pre-collision condition. If we find that you are not responding as we would expect, we may refer you for a medical evaluation.
Contact us today to find out more about how we can help you regain your health. Insurance coverage can be used for your visits.
CONTACT US »
* Khan S, Cook J, Gargan M, Bannister G. A symptomatic classification of whiplash injury and the implications for treatment. Journal of Orthopaedic Medicine 1999;21(1):22-25

Auto Accident Chiropractor in Cincinnati, Colerain Township OH | (513) 385-2273